Product Description
Product Description
Polycom HD Voice – unparalleled clarity to make your conference calls more efficient and productive - calls at up to 22 kHz, an industry first, for conference calls that sound as natural as being there.
Polycom's patented Acoustic Clarity Technology - delivering the best conference phone experience with no compromises.
20-foot microphone pickup (thats 100% increase on previous generation) - and even more with optional expansion microphones or multi-unit connectivity to reach all corners of the conference room.
Automatic Gain Control - intelligently adjusts the microphone sensitivity based on where participants are seated in the conference room.
Unparalleled flexibility and expandability.
Large, high-resolution LCD display for advanced applications - includes XHTML microbrowser - enables new applications that make conference calling easier and more functional.
Integrated Power over Ethernet (PoE)
Strong, robust SIP software - leveraging the most advanced SIP endpoint software in the industry, with advanced call handing, security, and provisioning features.
Robust interoperability - compatible with a broad array of SIP call platforms to maximize voice quality and feature availability while simplifying management and administration
Note:
The Polycom IP7000 only works on SIP enabled VoIP networks. Please check with your IT department before purchasing.
The Polycom IP7000 SIP Conference phone is sold with a Power Supply Unit as well as having built in Power over Ethernet support. The optional IP7000 PSU can be purchased seperately if you do not have PoE on your network.

This is a Power Over Ethernet (PoE) enabled device and, as such, is sold without a PSU.
If you do not have PoE, you will need to purchase a separate Power Supply Unit.
Additional Information
Additional Information
| | |
| --- | --- |
| Manufacturer | Polycom |
| Colour | Grey |
| Condition | New |
| Manufacturer Part # | 2230-40300-015 | 2200-40000-001 |
User Manuals and Data Sheets
Reviews
Customer Reviews (1)
Expert Review

Review by

Best4Systems

Conference Phones suitable for: SMEs & Large Corporates

Major benefits:

Fully SIP enabled for VoIP platforms
20 ft range – extendable with additional IP7000 mics
Polycom HDX 7000 Video conferencing system compatible
Internal POE (Power over Ethernet). AC power kit also available
Large hi-res display
Polycom Acoustic Clarity Technology ensures maximum performance
Full HD Voice

Overall assessment:

The first and most obvious fact about the Polycom SoundStation IP7000 is the striking design, marking a real departure from the traditional Polycom design. The brushed silver furnishings, futuristic sloping 'arms' and clear, well defined key pad, make the IP7000 a very distinctive and enviable audio conferencing unit.

Fully enabled for SIP based IP and VoIP platforms, the unit can be used solo, or with 2 additional microphones. You can couple 2 units together for additional coverage, and the Polycom IP7000 also fully integrates with the Polycom HDX 7000 video conferencing system.

Incorporating the full HD voice sound quality that is standard throughout the Polycom Soundstation, the delivery of this Ip7000 is excellent. Easy to use features, clear display and simple options menu make this a clear leader in its class.

(Posted on 19/02/2016)
Delivery
We offer a standard € 10 delivery for every parcel under 20 kg which is delivered in 48 hours from the date of shipment (allowing for weekends and public holidays).
Upon shipment of your order, you will automatically receive a confirmation email that will allow you to track your delivery in real-time. A signature will be required on delivery.
You may also be interested in the following product(s)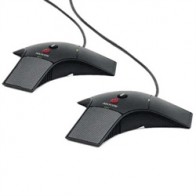 Excl. Tax:
€264.00
Incl. Tax:
€316.80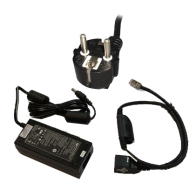 Excl. Tax:
€102.00
Incl. Tax:
€122.40