Product Description
Product Description
Acoustic Clarity Technology
Unparalleled Room Coverage
Revolutionary Voice Quality
Built-in Investment Protection
Maximum Configuration Flexibility
Easy to install/Easy to use
The Polycom SoundStation VTX 1000 allows you to speak naturally from 2 feet to 20 feet away from the microphone, so those on the remote end of the call can hear you clearly leading to increased productivity, faster decision making, a higher competitive advantage, and much happier conference call participants.
As the world's first high fidelity wideband conference phone, the Polycom SoundStation VTX 1000 covers the full range of the human speech spectrum making every voice, word, and syllable crystal clear – you'll think you were all in the same room! It's like going from black and white to color TV.
And, you can download new software for additional features and functionality simply by dialing a number right from your Polycom SoundStation VTX 1000 – now that's built-in investment protection!
Now is the time to experience the Polycom SoundStation VTX 1000. It's the perfect solution for any size conference room and will provide full room coverage for a 54' x 40' room.

The product advertised is an Analogue device which will only work on an analogue line or analogue extension. Please check with your IT department if you are not sure if this is suitable.
Additional Information
Additional Information
| | |
| --- | --- |
| Manufacturer | Polycom |
| Colour | Dark Grey |
| Condition | New |
| Manufacturer Part # | 2215-07142-101 |
| EAN | 0610807059301 |
User Manuals and Data Sheets
Reviews
Customer Reviews (1)
Expert Review

Review by

Best4Systems

Conference Phones suitable for: SMEs & Large Corporates

Major benefits:

high-end audio conference
Polycom HD Voice technology
Expandable to 20 feet range with additional microphones
Suitable for 10 people, increasing to 16 when expanded

Overall assessment:

If you are looking for a high-end audio conference phone that is adaptable to a variety of meeting environments the Polycom Soundstation VTX 1000 is the one for you.

Designed for small and large conference rooms alike, and with easy to use additional microphones and a combined subwoofer and amplifier, the Polycom VTX 1000 has class leading coverage and sound quality.

Advertised with room coverage that allows participants to be up to 20 feet away from the microphones, and utilising external speakers as necessary, this unit provides the ultimate Polycom HD Voice technology.

The technology employed in the VTX1000 has the ability to reduce much of the surrounding background noise, enabling the users to speak far more naturally.

In a typical environment, the Polycom VTX1000 alone will cater for up to 10 people at a range of 16 feet. The Polycom VTX1000 with sub-woofer and microphones or the Polycom VTX1000 with microphones will cater for a meeting of 16 comfortably.

The Polycom VTX1000 with the sub-woofer alone will facilitate a coherent broadcast to a lecture theatre of small conference hall with amazing clarity.

All in all The Polycom VTX100 is definitely the premier Audio conference unit on the market today, and the choice for professionals who will not compromise on quality.

(Posted on 19/02/2016)
Delivery
We offer a standard € 10 delivery for every parcel under 20 kg which is delivered in 48 hours from the date of shipment (allowing for weekends and public holidays).
Upon shipment of your order, you will automatically receive a confirmation email that will allow you to track your delivery in real-time. A signature will be required on delivery.
You may also be interested in the following product(s)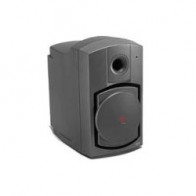 Excl. Tax:
€120.00
Incl. Tax:
€144.00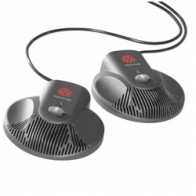 Excl. Tax:
€174.00
Incl. Tax:
€208.80